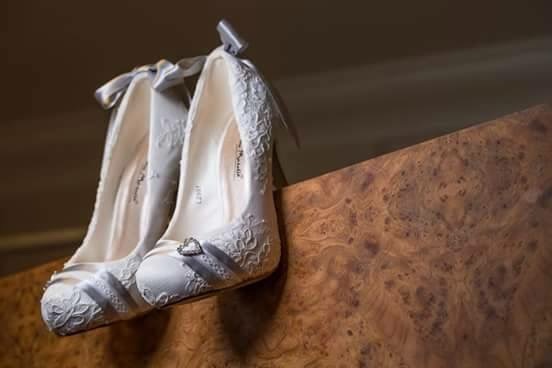 Lace and Love initially stated by accident!
I am Amanda, and have always been creative. When getting married to my husband Kevin I wanted some lace, vintage looking shoes to match our wedding. I couldn't find anything anywhere. So eventually I had lace designs painted onto my shoes.
Fast forward a year and my sister is getting married and has the same problem. She found a lace pair that were almost £700! While chatting one night and looking at similar priced pairs (that was all we could find) I announced that I could probably do that! (Well, I could at least have a go) And so a few pairs of practice shoes were purchased in preparation for her big day. I posted the pictures of my creations to a page I created just to see what my friends thought and get some feedback. That page quickly gained a lot of followers even from outside of my friends list. Initially just a fan page I made pairs for family and friends so I could showcase the pictures. Now, Lace and Love is a fully fledged business with customers from all over the world.
I have won several awards- Most Popular Shoe Designer Worldwide in the Wedding Industry Expert Awards 2015 & 2016, East Midlands Wedding Accessory Designer of the Year 2017 in The Wedding Industry Awards, Highly Commended in the British Wedding awards 2018 and Most Outstanding Wedding Accessory Designer UK in the Best of the Wedding Industry 2019. I have also made a TV appearance on BBC's Don't Tell The Bride helping a groom to design shoes for his lucky bride!
Recently I designed shoes for a celebrity wedding when making shoes for Ruth Payne, sister to Liam Payne from One Direction.
My work has been featured in many publications and blogs such as Wedding Ideas Magazine, Perfect Wedding Magazine, County Wedding Magazines, Confetti, Countryside La Vie and The English Wedding Blog.
I still work alone, my husband helps out with the technical side when I need him, such as updating my website etc as I have no patience for technology! Oh and the dog offers emotional support by trying to cuddle me when I'm working and looking at me with big brown eyes! So that's us in a nutshell and I will keep making the world more beautiful, one pair of shoes at a time and hope you choose us to make your feet unique.